Table of Contents
This post may contain affiliate links, which means I'll receive a commission if you purchase through my links, at no extra cost to you. Please read full disclosure for more information.
Ikea organization hacks are so satisfying because their stuff is fun, simple, and affordable. And, it's a great way for reigning in the clutter and gaining extra space. You get that feeling of having all your stuff together while having it look pretty cool, too.
20 Best Ikea Organization Hacks
1. Hanging Bucket Hair Crap Holder
We all know we need as much free counter space as possible.
That is never more true than it is in the bathroom. The real estate in there is very limited and once you've got the blow dryer and the flat iron out, you're pretty much endangering lives. You know in case one falls in the sink while you're brushing your teeth.
These hanging buckets are perfect to get all of the little stuff that is so easily knocked over, off the counter and up and out of your face. (If you need more bathroom storage ideas, we got them!).
2. Ribbon Organizer
The Heathered Nest came up with this brilliant use for one of the Ikea utensil holders. I love to see ordinary items used in unique ways.
Ribbon is one of the offenders of my budget. I buy ribbon, I use it, I chuck it in drawers and I forget that it EVER EXISTED.
Then I need ribbon again and I go buy more at the craft store. See what I mean? It's like I have ribbon amnesia.
3. Card Catalog Storage Space
Windgate Lane did the best makeover for the Ikea hallway shoe organizer I have ever seen. And I have seen LOTS of Ikea hallway shoe organizer DIY projects.
I love everything about the look of this, the color, and the cute card catalog motif. It's completely personalized to her style. It's way cooler than just a bookshelf.
But it's not just about looks, right? This thing stores a TON of shoes and if you don't need all of that space for shoes, you can get creative with what you store in there.
The best part is extra storage for a very small footprint. This is an insanely great idea!
4. Entry Organizer
Instructables has the niftiest little tutorial for making this tiny but oh-so-functional entry shelf made with Ikea magazine holders.
It's the perfect place to drop your stuff when you walk in. Including the mail.
What's great about this is that it will only hold so much mail. Thereby forcing you to not just drop the mail there and not look at it again for the month (which happens with other storage bins).
It's forced paper decluttering and I'm on board with that. Corral the mail and the keys and you are a step in the right direction when it comes to being organized.
5. Garage Organizer
Can you guess what the brilliant people at Ikea Hackers used to store these shovels and things? You'll never guess what those are.
Wine bottle holder thingies! What a good idea!
I want to know the person who goes, "You know if I put these on the wall in the garage…" Having your stuff up off the floor like this is an instant upgrade to your garage.
What other genius things have that person come up with? Or are they a one-hit wonder and they used all of their genius on this one practical solution?
7. Side Table with Storage
If you have small spaces, then storage and organization is always a problem. This smart side table from Ikea Hackers solves a couple of those problems.
It's an easy DIY project table, first of all. It has plenty of style and you can place it at the end of the sofa in your living room to hold your tea and your book.
But it's also got storage when you lift that top off. Your throw blankets or pillows finally have a home! Or you could even use it to store your shoes when you come in the house.
8. Tie Organization In An Awkward Space
You should learn to utilize the awkward spaces in your home. There are little spots for organization and storage all over that you just aren't noticing.
Do it brilliantly by using an Ikea drying rack on the slope in the roof to store a lovely tie and belt condition. Hey! It's a good use of an empty wall! Organization is the best when you make use of every bit of space.
9. Accessory Organization
You tend to use things more if you can see them. My necklaces are currently tucked away in the closet, so guess what?
I never wear any.
That's why this jewelry and shoe organizing "system" is so smart. Having all of your accessories displayed means you have easy access to them. Easy access means you are more likely to actually wear all of that! This was made with the Bygel rails for kitchen cabinets (which is obviously a great hack for a small kitchen).
10. The Shoe Cabinet for Anything But Shoes
The Ikea shoe cabinet is bordering on not being small storage, but since it's got such a great shallow profile, I'm calling it small storage.
It's intended for shoes, but I'm going to tell you a secret. No one comes to your house and scolds you if you put other stuff in it. Over at Polished Habitat, they found 14 DIFFERENT ways to use the shoe cabinet that don't involve shoes.
11. Vertical Hanging Organization
Even in the tiniest of spaces, there is always vertical wall space that can be utilized for storage solutions.
This idea from Ikea Hackers takes care of so many problems. These were made with the Ikea Grundtal rails and some hooks. It reminds me of an over-the-door pantry storage thing.
Think about where those sweatshirts and shoes would be if not hung like this.
Probably the back of a chair for the sweatshirts (messy) and the shoes in a pile (messier). This gives you way more floor space (which my family feels is a good place for dirty clothes).
12. Charging Station
Chargers, cords, input thingies… these are all the bane of my existence. An uncharged device has been the cause of many a meltdown. And I'm not talking about kids, I'm talking about me.
I cannot STAND when my phone is nearly dead. If it's nearly dead, I'm in NO mood to go look for a charger.
A charging station like this one would be more than just small storage for my charging crap. It would improve my blood pressure and quality of life.
13. Storage Cubbies
This is a great example of form meeting function in this really cute cubby system.
The Kvarnvik storage boxes are repurposed as the perfect spot to house some pretty scarves. This would be enough storage for winter gloves and hats and all of that other stuff the cold weather brings.
They actually become part of the decor if you're not messy about it. Right now I think I have all mine in the Ikea RASKOG cart.
14. Sunnie Storage
If you love sunglasses as much as your fave Ikea pieces, then maybe you have this many pairs.
I don't have this many pairs. I probably have bought and lost that many pairs, though.
Maybe if I had a great solution for organizing sunglasses like Ikea Hackers came up with, I wouldn't have lost so many pairs.
This would work great for other accessories if you add some S hooks. Then you could do all of your accessorizing in one place! Life is better when you don't have to look for stuff.
15. Jewelry Corral
Sometimes it's ok to just leave stuff out.
Jewelry for instance is pretty and if you have a few things that you wear every day, then, it makes sense to have a spot on your dresser where you keep them.
These little Ikea coasters turned jewelry and ring dishes from DIYS.com are perfect for this. They are cute, add to the décor in your room and are perfect for very small items.
16. Makeup Brush Organization
If you need an easy way to store your paintbrushes or even your makeup brushes, the pretty white Ikea plant pots are perfect.
Fill them with sand and stick your brushes in the handle side down.
The sand adds some weight so they aren't so easy to knock over and you can see all of your brushes at once. For more makeup organization ideas outside of just brushes, we have all the best DIYs for that too.
18. Faux Mudroom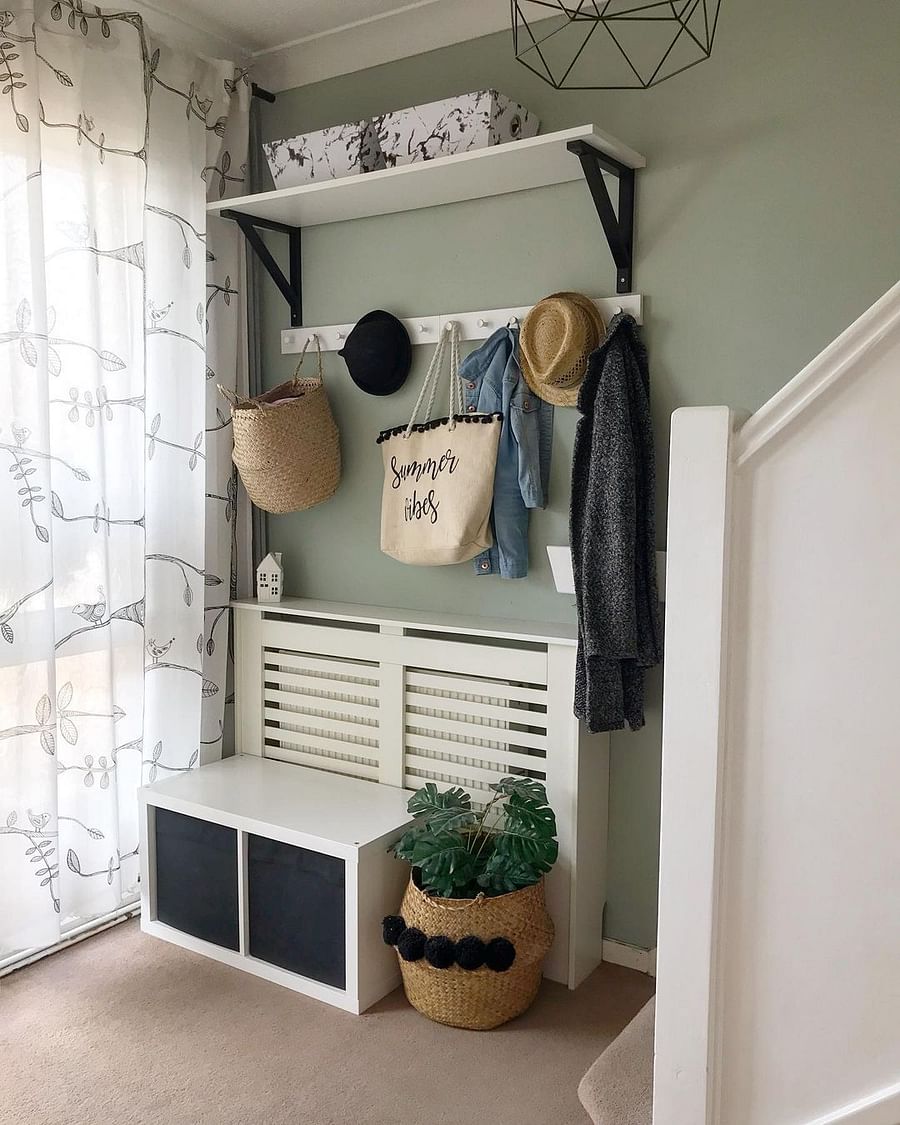 I love how Houszed found that you can put your own "mudroom" together using IKEA products like bookcases. I actually have that IKEA basket and it doesn't come with poms on it…so they even hacked that!
19. Storage For Diapers
Nursery Design Studio took a regular old IKEA cart, and made it into a diaper caddy. What a good idea! It's mobile so you can drag it to where you need it to be at any given moment. It'll hold all of the baby essentials too!
20. Label Your Bins
Labeling a bin elevates its storage capabilities. It's now not just a place to throw your junk in.
It's a place to throw the specific junk it is asking for in. That makes a big difference.
It's one step further to never having to think about where your bobby pins are.
A Word On Decluttering
Before you start implementing these IKEA hacks, I want to hop on my soap box real quick and remind you that you shouldn't try to organize clutter.
The first step in organizing is ALWAYS decluttering.
If you need help clearing the clutter, I've found learning to let go is key! I used to be a pack rat and keep anything that even had a hint of sentimentality. But, once I got older and saw how much you really accumulate and that no one will want it later (they've accumulated their own stuff!), it's helped me let go.
If I do feel nostalgic about something, I take a picture of it! I can show my kids all the toys I loved in my youth that way.
Want More Cool Organization Ideas?