Table of Contents
This post may contain affiliate links, which means I'll receive a commission if you purchase through my links, at no extra cost to you. Please read full disclosure for more information.
I love all things makeup and skincare. And it seems most of you do too! According to Globe Newswire, the global skincare products market was worth $140.92 billion in 2020, and it's predicted to grow repeatedly by almost 5% till at least 2026. And, CNBC says more than 56% of men in the US use some form of makeup. So, all the to say, we all got A LOT OF COSMETICS to store!
I'm always looking for diy makeup organizers and ways to store all my daughter and I's beauty products.
Here are 15 of the best DIY makeup organizations ideas for those on a budget, teens, free, and everything in between.
How Do I Organize All of My Beauty Products?
Most of us do not have an entire glam room. So, I've found 15 of the best ways to store all of your makeup without clutter (especially if you have a small space to do it in)!
1. Painted Mason Jar Containers
It's no secret that I love Mason Jars and I really love when people get creative with them like these painted Mason Jars.
If your going to use makeup brushes to make yourself look good (you look wonderful already), then you might as well put those makeup brushes in beautiful looking containers. They are going to look so pretty sitting on your vanity!
These from Amazon even come with labels!
2. Candle Jar Storage
Organization all comes down to storage and candle jars can be awesome storage bins for your lip glosses, nail polish, and other supplies. What an awesome way to turn a boring candle jar into a beautiful container.
If you don't have any old candle jars or don't feel like cleaning them out, grab these clear holder cups from Amazon
3. Magnet Board Makeup Organizer
Sometimes I forget how awesome magnets are and then I come across something like this and I'm quickly reminded of their awesomeness. This can hang in your bathroom along with your funny bathroom signs (oh, don't have any? Here are free printables in my other post!).
4. Acrylic Utensil Holders
I love this! They have a cover to keep your brushes dust free. And, they even come with the pretty pastel pearls if you want to take it from the minimalist look to glam at any time!
5. Hanging Jar Storage
I wish I was a creative person. I know that sounds silly when I write about DIY crafts and stuff but when I see solutions like this it makes me feel like I'm not creative at all.
Thankfully wonderful people around the web continue to share their wonderful creations so non-creative people like me stand a small chance of doing awesome things.
6. The Swanky Two-Tier Organizer
Picklee knows what she is doing. She can turn a tin can and a tray into functionable and make it look cool. You can even use old dinnerware you were going to donate.
I've created my own version of the swanky two-tier organizer and put it on my dresser. Now my makeup and jewelry doesn't look like clutter!
7. Sushi Mat Roll-Up
I didn't even know things like this existed. Watch this video tutorial from fabulous Karla Celis to learn how to make it. This has to be the funnest makeup brush holder I've ever seen and you can get a sushi mat cheap on Amazon.
8. Brass Vanity Tray Makeup Holder
Looking for a pretty way to store your lipstick and mascara on your vanity? This is perfect for those who want a more vintage vibe.
9. Plastic Drawers
I'm not lying to you when I say I probably have 20 of these in varying sizes around my house.
They are just so useful and utterly amazing. For example, this awesome mini-clear version is great for organizing your makeup.
10. DIY Cardboard Jewelry and Makeup Organizer
Ok, this is just beyond! Like how in the world did they make this out of cardboard. Check out this tutorial video by YLSimpleCrafts. This is legit one of the best diy organization ideas EVER! It's a tissue box holder too (for those of us that can't afford Kim K's $90 tissue box)! And, you can use washi tape to make it match any decor!
I know you have tons of empty Amazon boxes you're looking to re-use.
11. IKEA Alex Drawer- Required For All Glam Rooms
I'm obsessed and I'm now buying this for my daughter's makeup products (Christmas present. Check. Keeps her bedroom clean. Check.). I loved watching Rachael's video.
It was so satisfying to see all those lipsticks in there. I think I'm going to have to get this for myself too. Those little acrylic baskets inside sent me over the edge! I can't take seeing all that glorious organization.
Can't get to IKEA? Grab the supplies on Amazon!
$34.99

$19.99 ($0.83 / Count)
$34.99
$19.99 ($0.83 / Count)
03/27/2023 04:22 pm GMT
12. IKEA Spice Rack DIY Makeup Organizer
Spice racks for the win! I've written about how versatile the Ikea spice rack before. But, it would be so cute painted with labels on the front of the shelves. I can't even. You could use this for your eyeshadow palettes, skincare products, and any other cosmetics you have.
13. Make-up Labels for Beauty Products (and much more)
One of the best makeup storage ideas is to get these minimalist-style labels and use them on holders you already have. Now that's diy makeup storage ideas on a budget for ya! This set of labels covers EVERYTHING too including not just makeup, but toiletries, skincare, haircare, and more.
15. Minimalist Wood Block Makeup Holder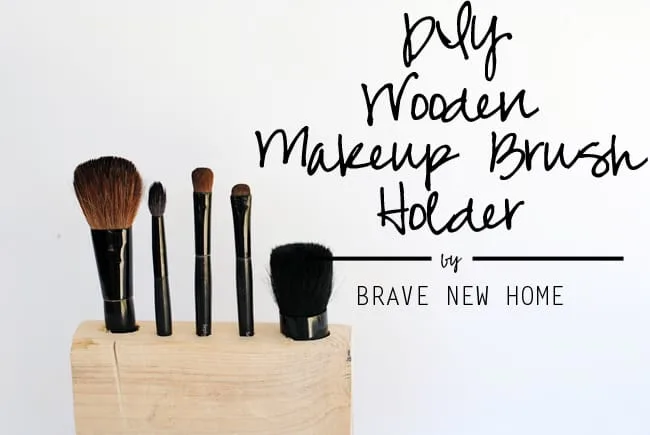 Do you have a scrap piece of wood laying around? Do you own a drill? This easy, and hopefully free, diy makeup organizer is perfection. You can't get any cheaper than FREE, donated, or borrowed! I'm sure someone has a block of wood they'd give you and you could borrow a drill! And, it will go good with any decor from boho to modern! Not only could you make one for makeup brushes, but it'd be great for eyeliner pencils or as a lipstick holder.
Looking For More Ideas?