Table of Contents
This post may contain affiliate links, which means I'll receive a commission if you purchase through my links, at no extra cost to you. Please read full disclosure for more information.
One guest bathroom has some inspirational word art and a picture of Portugal. The other has nothing. Literally no decor in the other bathroom.
So, that's why I'm writing this. I needed some funny bathroom art for my own personal use (looking for bathroom wall art that goes with my white bathroom decor). It seems that there is a definite following for slightly naughty word art in the bathroom. In this post, I offer up some of the funniest bathroom prints you can buy along with some FREE bathroom printable art.
Funny Powder Room Signs You Can Buy
All of these fun signs are perfect…if you have the sense of humor of a 13 year old. I fall into this category. Because, I mean some of these are really funny. Some of them made me laugh out loud. And some are just cute funny! And, in my opinion, the best way to get these is to buy them…because I'm lazy. So, I went through and found all the funny bathroom sayings on Amazon! No DIY required! You're welcome.
Let That Ish Go
This bathroom sign is hilarious…and correct. The perfect sign. Well, maybe not perfect for your kids bathroom! Ha!
Get Naked Bathroom Sign
Ok, this is one that definitely made me laugh. I've seen the Get Naked signs for bathrooms and those are cute. But, this is funny too! This restroom sign probably comes from a dad joke.
OMG Becky Funny Bathroom Sign
Ok, here are my thoughts on these naughty bathroom signs. If you don't get the Oh My God Becky reference, we can't be friends because you must be like 5 years old. Also, don't you dare buy that because I'm buying it right now to show off on social media. I love a good rap reference in my farmhouse bathroom decor.
Search a Word
This is possibly the greatest Christmas/Housewarming gift ever to be gifted. Who doesn't want a toilet sign as a present?! Seriously. You could buy so many of these for the people that you don't know exactly what to get them, but they have a great sense of humor.
If I buy this for you, it means that I think you're funny and I know that you will see that this funny print is a joy. And that people will talk about it forever. And that you have the best funny bathroom decor ideas on the planet.
Be The Change
Oh, how clever of Ghandi. It looks like it's an inspirational quote about doing good in the world (maybe to save water). But, nope, it's really just about changing the toilet paper roll. Who knew?! Raise your hand if you think this will actually help anyone besides you put in the effort to change the roll of toilet paper? Yeah, I didn't think so either.
Remain Seated
This is a definite, definite, definite no for me. Hard pass (hmm…pun intended). Would not buy this so-called funny bathroom print, ever. There's just too much left to my imagination with this sign. Why would anyone consider standing if they are sitting? Why are we referring to this as a performance? Why do you need someone to go over the bathroom rules? Moving on.
Short Bats
I know this is probably meant a kid's bathroom. But, this sign is too funny…and true…for ALL age groups! Just keep the bathroom floor clean people!
Finish the Job
Uh. Truer words never spoken, I guess? This isn't the best of the bunch, but it's got it's own thing going on. This funny bathroom sign is definitely for someone specific. It's like for an accountants house, or something. You know?
Booty Call
It's remarkable how much things change in the 10 or so years between college and having a 3 year old. These bathroom quotes are hilarious for those that know the struggle is real.
Text Me
I feel attacked. This is too accurate.
Don't Pee On The Seat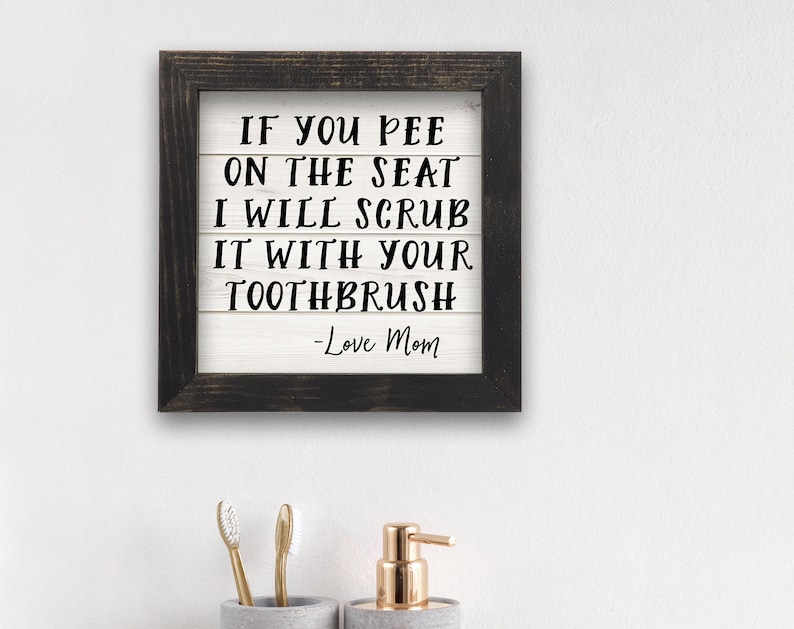 Oh this is hilarious. I know I keep saying this, but they are. Reading this first thing would definitely make for a good morning…if you're the mom.
Funny Bathroom Sign Art Prints (For FREE)
Yes, I admitted that I was lazy before. But, I also love FREE! Here are a few funny printable signs as digital files that you can frame yourself. Now you have no excuse for adding funny bathroom quotes on your wall.
"I see London, I see France" Printable Bathroom Art
"Squeeze My Bottom" Printable Funny Bathroom Wall Art
"On A Scale" Printable Funny Bathroom Signs
"They See Me Rollin'" Funny Bathroom Signs Printable
These are pdfs, but made to print at the best quality and not just your standard free printables. I hope you get lots of laughs and enjoyment out of these free printable bathroom signs. How will you pick just one? Guess you'll have to use all these funny bathroom pictures! If you need funny wall art for your kitchen, I got you covered there too!
Check Out More From Our Bathroom Decor Series:
Not as hilarious, but they have tons of great ideas to finish up your bathroom!