This post may contain affiliate links, which means I'll receive a commission if you purchase through my links, at no extra cost to you. Please read full disclosure for more information.
Fall is synonymous with the harvest season and nothing embodies this spirit more than pumpkins. Not just for carving or pie-making, pumpkins can play a pivotal role in setting up an aesthetic décor, infusing warmth and rustic charm to your living space. For those looking to weave some magic, here are fall pumpkin décor ideas that can breathe life into your interiors without even touching a glue gun!
1. No-Candles Required Pumpkins
Shimmer and style converge with these exquisite mercury glass pumpkins. Their versatile design allows them to blend seamlessly from Halloween to the rest of the fall season. Investing in these premium pumpkins ensures longevity in your decor collection. Where to Find: Amazon
2. Ethereal Wire Pumpkin Sculptures
As twilight descends, these delicate wire sculptures magically outline the silhouette of pumpkins. Perfect for both indoor and outdoor settings, these unique pieces can light up a stairwell, porch, or whimsically seem to "sprout" right from your garden. Within these intricate designs, miniature energy-saving lights pierce through the evening, casting a gentle glow and bringing the sculpture to life. Where to buy: Pottery Barn
3. Rattan-Weaved Gourd Elegance
Crafted meticulously from rattan, these gourds showcase nature's nuanced shades, seamlessly blending in yet standing out. Their robust shape and earthy vibe bring a touch of organic charm to any console or countertop, enriching your space with texture and a dash of rustic allure. Where to find: Pottery Barn
4. Gleaming Lacquer Pumpkins
Reflecting the hues of fall, these lacquer pumpkins offer depth and dazzle akin to a garden globe. You can find these Lacquer Pumpkins on Grandin Road.
5. Bewitching Dragon Scale Pumpkins
These pumpkins, with their intricate dragon scales, are Halloween essentials, presenting the spookiest season in the classiest manner. You can find these Dragon Scale pumpkins on Grandin Road.
6. Pillow Pumpkin Decor Idea
Traditional yet modern, this pillow complements both farmhouse and shabby chic interiors. Its cheerful design brings an aura of coziness. You can find this on Zazzle.
7. Adorable Pumpkin Truck Pillow
This design might inspire you to reinvent your décor style entirely! Its charm lies in its nostalgic vibes. You can find the Pumpkin Truck Pillow on Amazon.
8. Elegant Glass Pumpkin
Designed for mantel displays, the subtle color and quirky stem of this glass pumpkin ensure it's the center of attraction. You can find the Glass Pumpkin through Target.
9. Dual-Purpose Pumpkin Dutch Oven
Cook and display! This pumpkin Dutch oven is not only a cooking companion but also a decor piece par excellence. You can find the Pumpkin Dutch Oven on Wayfair.
10. Mesmeric Art Glass Pumpkin
Encapsulating the spirit of fall, this glass pumpkin is a visual treat. You can find the Glass Pumpkin on Amazon.
11. Cozy Chic Fabric Pumpkin Decor
Why DIY when you can have the best? These fabric pumpkins are the epitome of cozy and chic. I could have put that white one in my post on White Pumpkin Decor. But it's here instead. You can find these Fabric Pumpkins on Pottery Barn.
12. Rustic Reclaimed Wood Pumpkins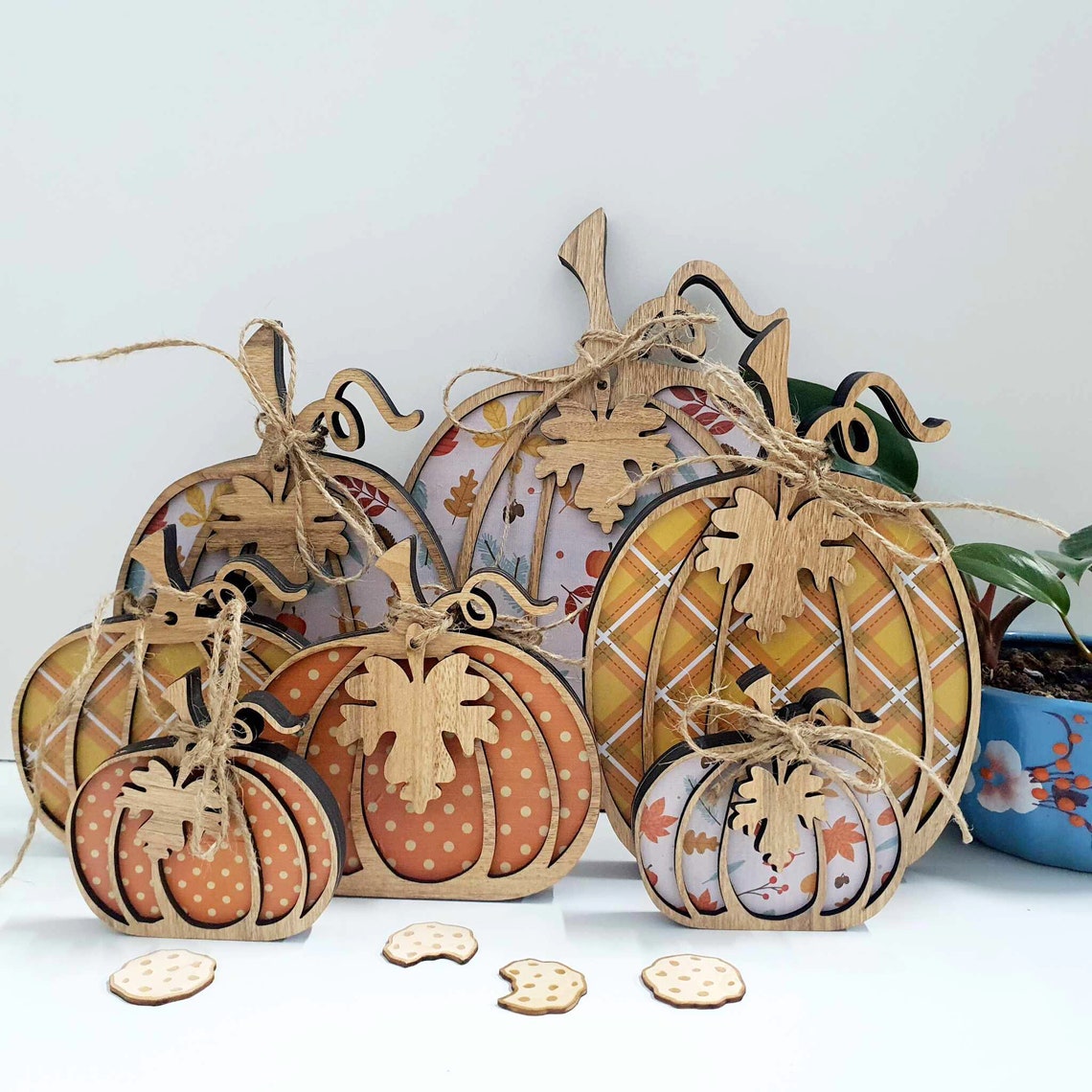 Showcasing earthy colors, these pumpkins crafted from reclaimed wood are a treat for rustic décor enthusiasts. You can find these Reclaimed Wood Pumpkins on Etsy.
13. Minimalistic 3D Pumpkin Ideas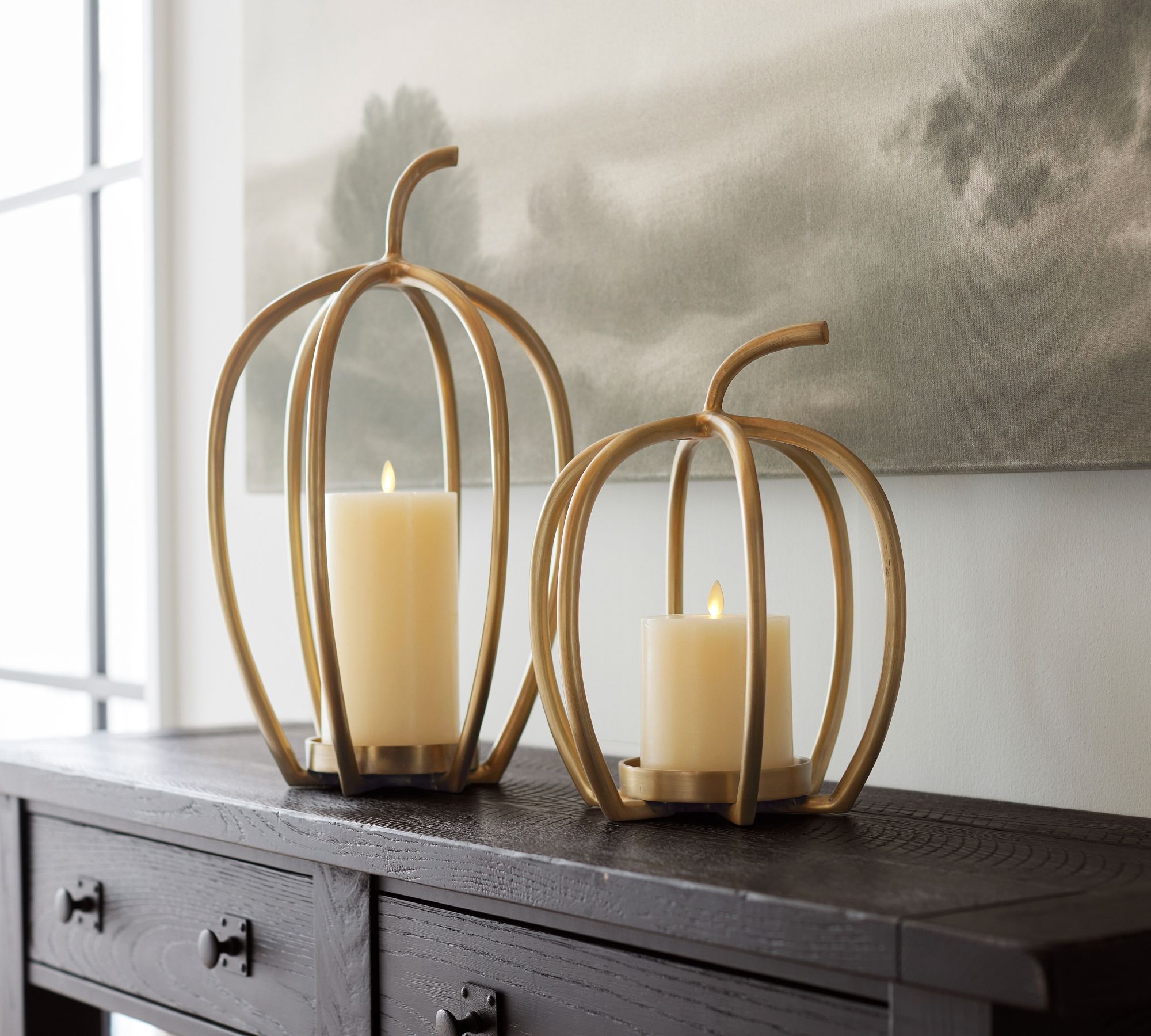 These transparent 3D pumpkins appeal to the minimalist in everyone. Their unique design makes them ideal centerpieces. You can find these 3D Pumpkins on Pottery Barn.
14. Leaf Accents and Bowls of Gourds
Collect fallen leaves and accentuate their natural beauty using mod podge for that polished look. Display these shimmering leaves in bowls amidst a mix of gourds and mini pumpkins. This simple yet impactful décor idea is ideal for coffee tables, the entryway, or Thanksgiving centerpieces, making your guests feel instantly welcomed.
15. Mini Pumpkin Vase Fillers
These cute little guys can be arranged in a bowl or basket to create a lovely fall-inspired centerpiece. But, I love the idea of filling a tall vase with them. It would be cute on the mantel. You can find these fabric mini pumpkin vase fillers at Target.
16. DIY Decorative Pumpkin
Not up for the mess of carving pumpkins? Opt for faux pumpkins. With a bit of hot glue, glitter, or paint, you can craft stunning Halloween decorations or prepare your home for Thanksgiving.
DIY Tutorial: Use mod podge and glitter to add sparkle to these pumpkins. Or, use stencils and spray paint to craft intricate designs.
17. Front Porch Fall Decorations
Your front porch is the gateway to your autumn abode. So, you could showcase these intricate rattan pumpkins which are skillfully created by artisans. This no-mess alternative to the traditional candlelit jack-o'-lantern radiates a gentle glow, powered by tiny energy-efficient bulbs. Available in two sizes, you can opt for one or pair them for a luminous display on stairways, porches, or even nestled amidst your garden greenery. Where to find: Pottery Barn
Conclusion: Fall Pumpkin Decor Ideas
Autumn calls for a pumpkin-inspired revamp. With these fall pumpkin décor ideas, you can effortlessly elevate your home's ambiance. Remember, it's not about overwhelming the space but selecting pieces that resonate with your style. So, pick your favorite pumpkins, place them strategically, and bask in the autumnal glow!