Table of Contents
Why Gothic?
Gothic is a style that has been around for centuries, and its influence can be seen in many aspects of culture today. From literature to architecture, Gothic style has had a lasting impact on the world. Gothic architecture is characterized by its pointed arches, ribbed vaults, and flying buttresses which allowed for larger churches and cathedrals. Gothic literature often features dark themes such as horror, death, and romance. It also often includes supernatural elements such as ghosts or vampires.
It's still popular today because it evokes feelings of curiosity and awe. Its grandeur inspires us to look beyond the everyday world into something more mysterious and beautiful. Whether it's a gothic cathedral or a vampire novel, the Gothic style will always have an appeal that transcends time. It's a vibe.
Gothic Bedroom Decor Ideas
Victorian Era Gothic Bedroom Ideas
This style of decor combines the traditional elements of Victorian design with the darker, more mysterious elements of Gothic design. The result is a room that looks both elegant and eerie at the same time. When creating a Victorian Gothic bedroom, it's important to choose furniture and decorations that fit the theme.  Accents like tufted headboards, velvet curtains curtains curtains curtains, and ornate mirrors can add to the luxurious feel of the space. 
When it comes to color schemes, dark colors such as black, navy blue, burgundy red, and deep purple are all popular choices for Victorian Gothic bedrooms. These colors can be used on walls or incorporated into bedding and other accessories.
Bohemian Gothic Bedroom Ideas
Bohemian gothic bedroom ideas are a unique mix of romanticism, dark colors, and eclectic decor. This style combines elements from both bohemian and gothic design to create a space that is both cozy and mysterious. To achieve this look, you can use dark colors such as black or deep purple for the walls, furniture, and bedding. You can also add vintage pieces like antique mirrors or chandeliers to give the room an old-world feel. Additionally, adding plants and other natural elements can help bring some lightness and life to the room. When it comes to accessories, you can go for items with a bit of edge such as skulls or candles in unusual shapes. Finally, don't forget to layer your textiles with rugs, throws, and cushions for added warmth and comfort.
Traditional Gothic Rooms
Gothic decor is a style of interior design that emphasizes dark and mysterious elements. It draws inspiration from Medieval architecture and Gothic literature, creating a unique and dramatic look. Traditional gothic decor items include items such as coffin shelves, skull shot glasses, metal roses, floral coffins, horror decorations, witchy room decorations, and scented candles in the shape of skulls or spines. These items are often made from materials like metal or wood. They can be found in stores that specialize in gothic home decor or online retailers such as Amazon, Etsy, Darkothica, Goth Mall, Tragic Beautiful, and Shopee.
Modern Gothic Bedroom
Modern gothic bedroom decor is a style of interior design that combines elements of classic Gothic design with modern sensibilities – and yes you can have white walls. It typically features dark pops of color, such as black and deep reds, as well as ornate details like velvet fabrics, richly patterned wallpaper, and antique furniture. The look can be further enhanced by incorporating unique pieces like vintage chandeliers and statement artwork. To achieve a modern gothic look, focus on creating a moody atmosphere with luxurious fabrics and trinkets.
Glam Goth Bedrooms
Glam and goth both stem from luxury. To get the look, you can paint your walls or use wallpapers, such as dark or crimson patterns, to create an accent wall. Chandeliers are a no-brainer! Add furniture pieces with tufted headboards, velvet throw pillows, or silk details for a sumptuous feel. Consider adding a canopy bed to evoke a vampiric feel. 
How to create a gothic bedroom?
Textured or Patterned Wallpapers
When choosing wallpaper for a gothic bedroom, it's important to consider the overall look you want to achieve. If you're going for a more subtle look, opt for a dark floral or damask pattern with muted colors like black, navy blue, or deep purple. For a bolder statement, choose something with brighter colors like red or orange and more intricate patterns like skulls or crosses.
Painted Walls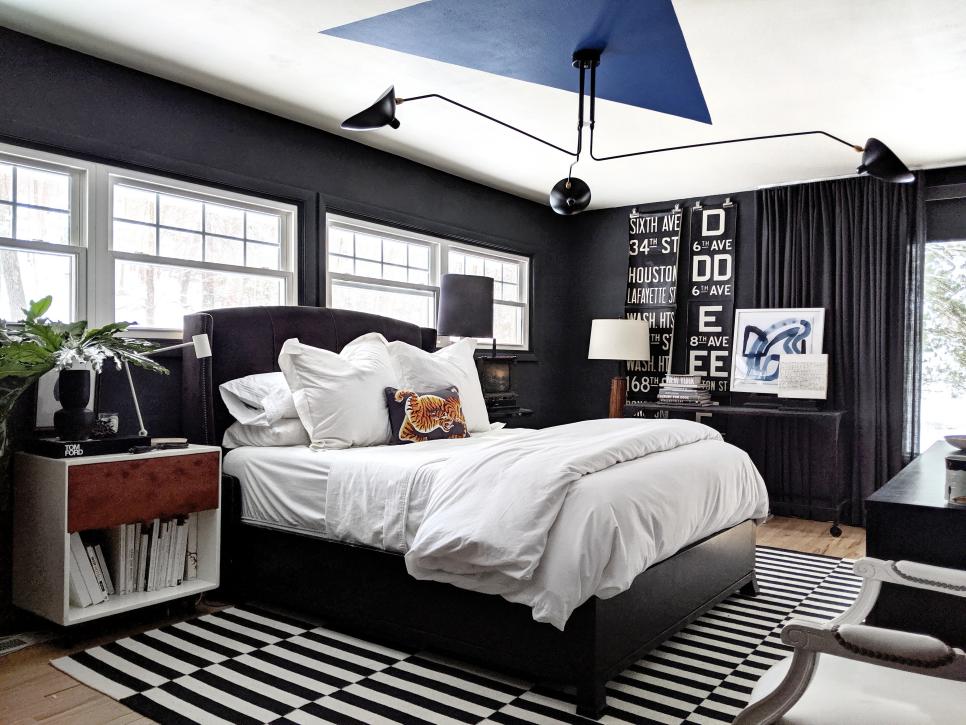 Creating a gothic mood in your bedroom can be as simple as adding a few coats of paint. Black walls, or any dark color, are perfect for creating a mysterious and spooky atmosphere. You can also use lighter shades of these colors to create an ethereal look. You can even paint the ceiling!
Goth Bedding
Gothic bedding can range from subtle to eccentric in its design, allowing you to create a unique look for your bedroom. A lot will have dark and mysterious designs, often featuring symbols associated with gothic culture. Gothic bedding is available in a variety of styles, including duvet covers, comforters, sheets, and pillowcases. You can find gothic bedding in both traditional and modern designs to suit any aesthetic. Whether you're looking for something dark and spooky or something more whimsical and lighthearted, there's sure to be a gothic bedding set that will fit your needs.
Gothic Themed Furniture
For those who want to add a bit of drama to their bedroom, consider a statement piece like a four-poster bed with intricate carvings or a velvet chaise lounge. Leather and dark woods, such as mahogany or walnut, work well for furniture pieces like bed frames, dressers, and nightstands. For a truly one-of-a-kind look, check out custom furnishings from companies like Haunt and Gothic Cabinet Craft.
Wood and Stone Materials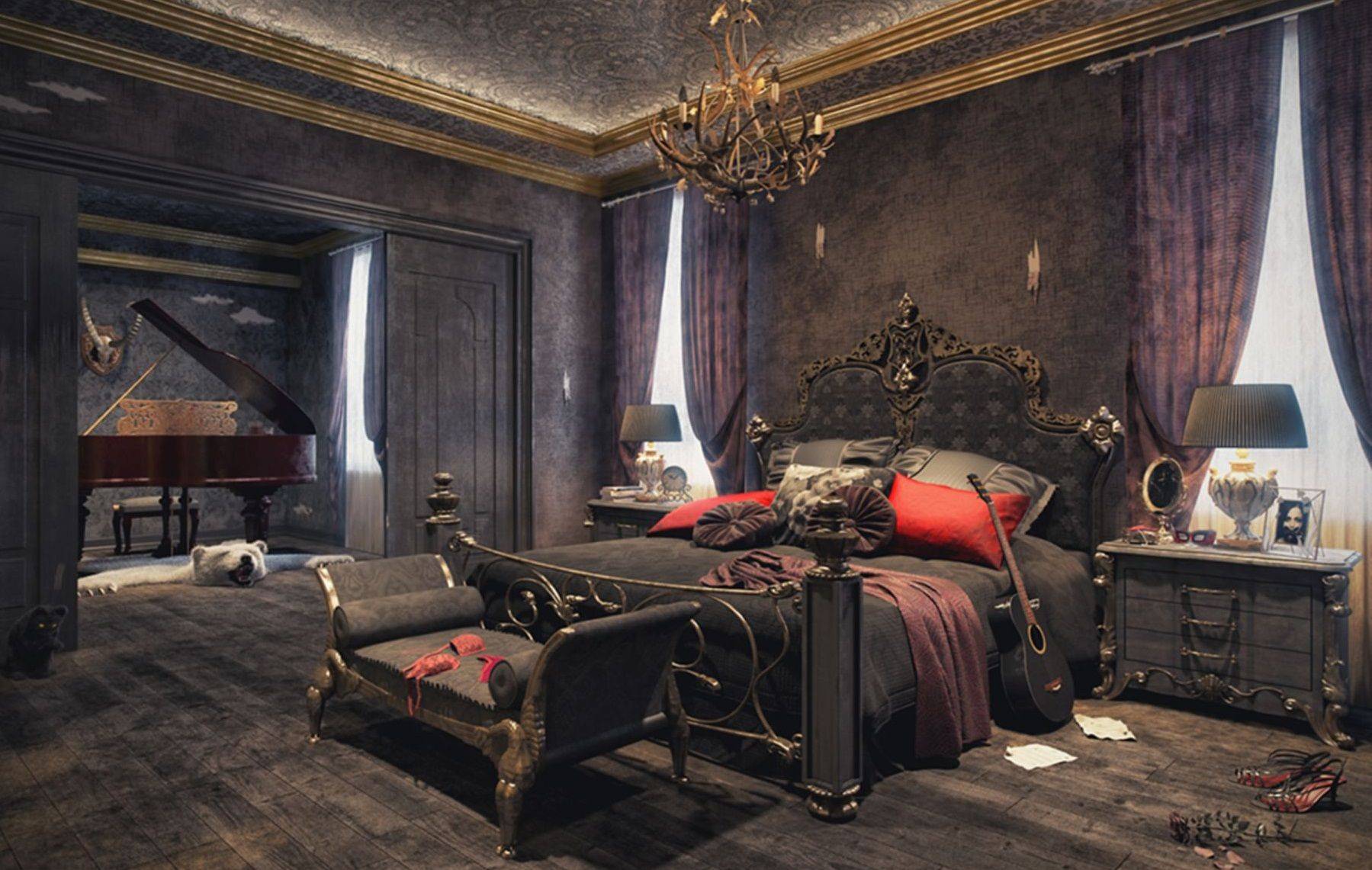 When it comes to decorating your bedroom in the Gothic style, don't be afraid to mix and match different elements. Incorporate antique pieces with modern touches for an eclectic look that's sure to turn heads.
Gothic Light Fixtures
Eclectic lamps and lighting are an excellent choice for adding a unique and mysterious touch to gothic interiors. A black chandelier is eerie, dark, romantic, and elegant all at the same time. Or you can go with something super modern or even rustic by using antlers. No matter your take on the Gothic aesthetic, there's something for everyone.
Gothic Décor Accessories
Wall art with typical gothic themes like bones, wiry branches, or vintage patterns is always a must. Add some extra flair with items like skull sculptures or velvet curtains. If you're looking for something more subtle, try adding some Gothic-inspired accents such as wall sconces or candle holders. Consider using shades of gray or adding metallic accents like silver or gold.
How to make your bedroom look gothic?
If you are looking to add a touch of gothic style to your bedroom, there are plenty of ways to do it. From full gothic theme bedrooms to subtle touches, you can create the perfect atmosphere for your space.
To start, choose a color palette that is dark and moody. Black is an essential color in gothic decor, but you can also incorporate shades of purple, red, and gray. Consider using patterned wallpapers or painting an accent wall with a deep hue. You can also add texture with velvet curtains curtains or bedding and accessorize with candle holders or candelabras for a dramatic effect. 
When it comes to furniture, look for pieces that have intricate details like carved wood headboards or ornate frames. Gothic-inspired artwork will also help bring the look together – think skulls, wiry branches, or vintage patterns. Finally, don't forget to layer on soft lighting and accessories like rugs and mirrors to complete the look. With these tips in mind, you can easily create a gothic haven in your bedroom!