Table of Contents
This post may contain affiliate links, which means I'll receive a commission if you purchase through my links, at no extra cost to you. Please read full disclosure for more information.
Cop these creative IKEA kitchen hacks that will makeover your kitchen into a functional and stylish haven! We understand that every homeowner desires a unique, personalized space that doesn't break the bank. That's why we're sharing clever ways to customize IKEA's affordable and versatile products, helping you maximize storage, enhance aesthetics, and create a kitchen that truly reflects your personality. I know you love you some DIY IKEA kitchen projects. 
20 Ikea Kitchen Hacks For Style & Storage
1. Funky Shelving
This Espresso organizer from Bidouilles Ikea was originally a round OMBONAD tray. I would've never thought of that! I love the idea of a circular shelf. It's unexpected, especially in the kitchen where everything is usually a rectangle.
This one has had the bottom painted white, but if you're into color, you could paint it any color you like. Or maybe even do a decoupage project with it.
3. Grain Sack Organizer
If farmhouse style is what you're looking for, then this grain sack organizer from Home Road is the perfect Ikea Hack for you. I can totally see Joann Gaines dragging Chip through some dusty, musty antique store with creepy dolls and picking this out while Chip tries on a full suit of armor.
4. Coppery-Glam Kitchen Stools
I love these mid-century modern hairpin legs stools that are leveled up with gold paint to glam status now.
That's what is great about Ikea kitchen hacks. Everyone in your neighborhood might have these kitchen bar stools. But if you put in a little extra effort like Krysmelo did with the copper paint, then yours are going to stand out.
7. Kallax Kitchen Island
We found the best and cheapest kitchen island hack from Jen Lou Meredith.
Not only do you get extra counter space with that handsome butcher block surface, but you also get a ton more storage space. You can modify the cabinet doors too.
And, if that isn't enough, it's on wheels! So if you need it over here by the sink, drag it over. If you're about to have a dance party in the kitchen, shove it out of the way.
8. Breakfast Bar
I'm calling this a breakfast bar from Club Crafted. It's fun to think about the kids eating breakfast in the morning on those cheery yellow stools, isn't it?
9. Cutting Board to Clock
We're back at Ich Designer again with this cutting board turned clock IKEA kitchen hack. This little clock is so plainly perfect. Perfect solution for some quick decor.
10. Tier Stand
One of the best ways to save space in your kitchen is to use some vertical space. This 3-Tier Stand from Curbly does just that with its three separate surfaces for stacking up your fruits.
Or sponges. Or the mail. Or any of the myriad of odds and ends that end up on your counters. I could totally see this as an Ikea Bathroom Hack, too. To store my makeup and hair stuff without cluttering the counters.
11. Cookbook Display
I know you don't have a lot of cookbooks anymore, but you might have a couple of special ones that you actually use from time to time. You should keep those ones in a handy display like this one from The 2 Seasons.  Oh, how I love all the IKEA spice rack customizations out there. 
12. The Shoe Cabinet as Kitchen Storage
This shoe cabinet thing from Ikea is the Clown Car of organization cabinets. It doesn't look wide enough to hold anything. But it holds a ton of shoes. And if you are a genius like Melissa from Polished Habitat, you can fill it with all sorts of other things.
Like water bottles. Or random pet stuff. Or your kids' junk that they leave all over the kitchen counters. If there are four people in your family, you can each take a drawer and fill it with whatever your heart desires.
13. Open Shelving
If you have a small kitchen, one way to make things feel a little more open and airy is to go with open shelving instead of cabinets on the walls.
It helps if you do a really good declutter first. Because the shelves become part storage, part décor, so you're going to want them to be minimal, tidy, and pretty.
14. Use All of The Space
Don't forget to think about unique ways to utilize the space under your cabinets. Or in this case under the open shelving. This is a great way to store extra coffee mugs, and wine in that Ikea wine holder and if you put your pretty mugs out, then you add a pop of color under the cabinets, too.
15. Customized Kitchen Pantry
Utilize IKEA's VARIERA, UTRUSTA, and RATIONELL series to create custom storage solutions such as pull-out drawers, spice racks, and tray dividers that fit your specific needs.
16. Bench Seating
Use IKEA's BESTÅ, STUVA, or KALLAX units to create bench seating with storage in your kitchen or dining area. This looks like a designer kitchen!
17. Faux Built-in Pantry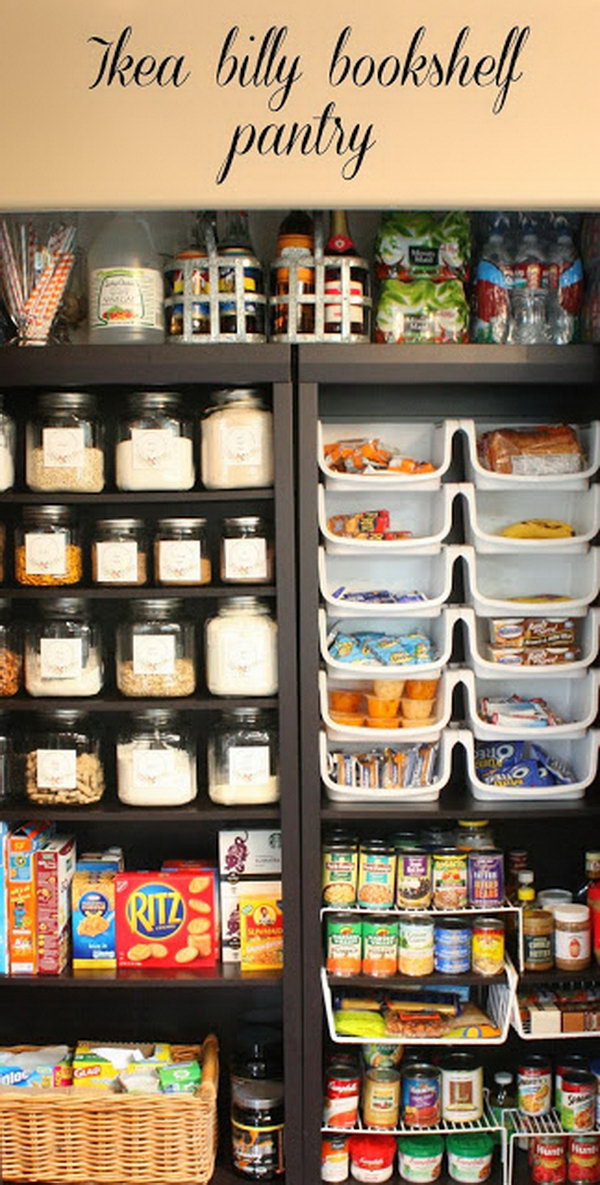 Combine two billy bookcases to create a built-in pantry. Customize with adjustable shelves, pull-out drawers, and organizers to suit your storage needs. 
18. Wine Storage
Incorporate IKEA's VADHOLMA wine shelves, HUTTEN wine racks, or KALLAX inserts to create wine storage in your kitchen, either as a standalone unit or integrated into your cabinetry.
19. Lighting
Add lighting IKEA cabinetry to brighten your workspace. You can also use pendant lights or a unique chandelier to make a statement.
20. Coffee Bar
Create a coffee bar using a small base cabinet, wall-mounted shelves, or a narrow tabletop like the LACK series. Add hooks for hanging mugs and storage for coffee supplies.
Which Ikea kitchen cabinets are the best?
The SEKTION system is highly popular due to its modular design, flexibility, and range of styles. It offers various cabinet sizes, door styles, and finishes, allowing you to create a customized kitchen that suits your taste and budget.
Can Ikea cabinets be modified?
Yes, IKEA cabinets can be modified by trimming panels, combining cabinets, changing cabinet fronts, upgrading handles, adding open shelves, customizing interiors, integrating appliances, and altering heights. Accurate measurements and appropriate tools are essential, and professional help may be necessary if you're not confident in your DIY abilities.
How can I make my IKEA kitchen better?
To improve your IKEA kitchen, maximize storage with organizers, upgrade cabinet fronts and hardware, and personalize with lighting, backsplash, and countertops. Opt for integrated appliances and cohesive color schemes. Add decorative accessories and keep the space clean and organized. Focus on functionality, aesthetics, and personal touches to create a well-designed kitchen.
Can Ikea kitchen cabinets be painted?
Yes, IKEA kitchen cabinets can be painted. Start by cleaning and lightly sanding the surface. Apply a primer suitable for laminate or melamine surfaces. Then, paint using high-quality paint designed for cabinetry. Finish with a protective topcoat for durability. Follow proper painting techniques to ensure a smooth, professional finish.
How can I make my IKEA kitchen look expensive? 
To make your IKEA kitchen look expensive, upgrade cabinet fronts, use high-quality hardware, install a statement backsplash and countertops, and choose elegant lighting. Add crown molding, opt for integrated appliances, and accessorize thoughtfully. Keep the space clean and organized to create a polished appearance. Focus on quality materials and finishes for a high-end look.
I'm not saying that these Ikea kitchen hacks are going to change your life. But I am going to tell you that when your kitchen feels comfortable and like "you", you want to enjoy it more. You want to have people over. You want to cook. (Maybe. At least get some really good takeout). You want to sit at the counter and sip coffee while your daughter tells you about play practice. You actually want to clean it up at the end of the night because you want to wake up again to your cozy, unique kitchen. So after looking through these, think about what would work for your kitchen.