Table of Contents
This post may contain affiliate links, which means I'll receive a commission if you purchase through my links, at no extra cost to you. Please read full disclosure for more information.
The front door is the first thing people notice when they see your house. At least, it should be. A great summer door wreath is going to give your home a beautiful entrance and first impression.
I have a particular style that I like, but I didn't stick to just my style here. There are some rustic wreaths, farmhouse, minimal… Even a romantic shabby chic wreath.
15 Best Summer Wreath Ideas
Rustic "Hi!" Wreath
What's more welcoming than a friendly "Hi!" for your neighbor? Nothing, that's what!
This pretty rustic grapevine wreath is perfect for a casual front door look for your rustic farmhouse.
The yellow accents will pop, especially against a dark door.
Dried Flower Wreath
I love this pink and yellow wreath because they almost look like strawflowers and it has those deep green leaves setting off the color.
This wreath is made with dried flowers, but it will last season after season if you take care of it. Don't let it get rained on and store it carefully when you take it down for the fall.
First of all, I love the style of these lettered wreaths. I also love word art as decor and the front door is a perfect spot for it.
There are even more choices for phrasing if you want to purchase. This is brilliant!
Lemons and Blueberry Wreath
Yellow is sunshine and happiness and lemonade is the unofficial drink of summer, right? It sets the mood.
The best part of this lemon wreath is the blueberries that gives this wreath a unique look (and navy blue is my favorite color so even better!).
If you love the idea of lemon decor for summer, I wrote all about my favorites!
Pink Modern Floral Wreath
For my modern, minimal taste, the hoop wreath is a game-changer. It's exactly enough floral gorgeousness with a super simple base.
This pink floral wreath is stunning against that black door, but I would also love to see it on teal.
One thing you do always want to take into consideration when choosing your summer door wreath (or any season wreath) is the color of your door. This wreath is beautiful but would not work at all on my door which is currently maroon.
Rainbow Felt Wreath
I'm a color lover, so this minimalist rainbow wreath is calling my name.
I love all the colors but I also love that it is a super simple design. This is definitely one I could see on my front door. I love it as a Summer wreath, but this would do for Spring and Fall, too.
Bright & Fun Floral Wreath
Here's a blast of sunshine and color for your front door! I love the colors in this floral wreath. They are so bright.
The color set off against that cute galvanized is just perfect for a happy farmhouse.
I say you could get away with this Summer door wreath in the fall, too.
Purple Natural Wreath
If you're a lavender lover, this is the wreath for you! I love the natural look of this wreath.
I love the movement that the design evokes. It looks like there's a breeze, doesn't it?
This one is made with dried herbs, too, so keep it out of the rain and store it carefully!
Lemon & Sage Wreath
Here's another lemon themed wreath for Summer. This just screams sunny days!
This one is paired with sage leaves. I love the pale green. And it was next to the lemony yellow.
Wood Bead & Lambs Ear Wreath
This might be my favorite wreath of the bunch of summer wreaths.
That's metal that make the base of the wreath. I can't tell you how much I love that juxtaposition of metal with the wood and soft leaves.
Minimal Floral Hoop Wreath
This is all you need for your front porch.
All of these wreaths are gorgeous, but if you are a minimalist in your heart, this is simple white flowers on a metal hoop is just enough. It's understated and beautiful.
And orchids. Perfection. Thank you Etsy.
Bright Tulip Wreaths
And if you are a MORE IS MORE kind of person, then this is the wreath for you! I am obsessed with this one actually. These gorgeous blooms scream curb appeal!
This pretty tulip Summer door wreath is BURSTING with cheer.
This one comes in several colors, so if pink blooms aren't your thing, have no fear. Or, the tulip wreath below is also going to put on a show for the neighbors!
Romantic Peony Wreath
If you're a shabby chic lover, this wreath should be on your door. It's so soft and romantic. I love the variations of the red and pink hues.
If you've got a white front door and you can't change it, this wreath will soften it up and obviously give a lot of color.
I love this wreath. It's like a lazy summer afternoon in a hammock slapped on the front door.
Simple Green Wreath
The idea of "effortlessness" is important to me in decor. That's what this wreath is. It's effortless.
It's simple, green and I love that it has some eucalyptus in it.
It's in the slight color and texture variations in the greenery that effortlessness becomes beautiful.
Funny Black & White Wreath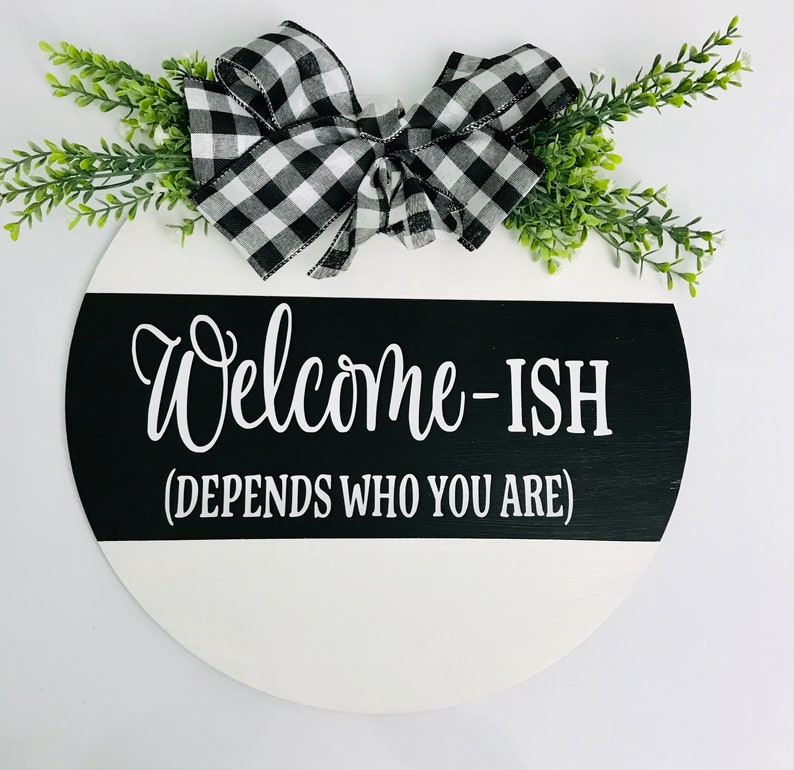 The hero of this black & white lettered wreath is the joke. There's nothing as eye catching as a message that makes you stop and wonder if you can come inside. Ha!
This black & white color scheme is perfect if you've picked a bright color for your front door.
Need A Beautiful Wreath For Other Seasons?
Before you know it, it's going to be pumpkin spice everything and you're going to be sad that you didn't savor summer quite enough. But, we got you covered. Check out our list of best wreaths for the new season!