Table of Contents
This post may contain affiliate links, which means I'll receive a commission if you purchase through my links, at no extra cost to you. Please read full disclosure for more information.
How to build a man cave on a budget?
Having your own man cave gives you a place to relax, unwind, and escape the outside world. To make a man cave cheap keep these in mind:
• You don't need a lot of space to create a man cave – even a small corner will do.
• The most important thing is to make it your own, so personalize it with your favorite things you already own. 
• Get creative with how you use your space – for example, turn an old dresser into a bar or use an empty fireplace as a mini library.
• Don't be afraid of DIY projects – there are plenty free or cheap man cave decor ideas.
16 Cheap Man Cave Ideas
1. Build a Man Cave Bar:
A great way to transform your man cave into the ultimate hangout spot is to build a bar. With some simple supplies and tools, you can easily construct a bar in any space. Then, you can stock the shelves with your favorite drinks (I don't know if top shelf liquor is in the budget though! Ha!) Or, just use floating shelves and stock those. Even easier!
2. Comfy seating
The nice thing about a man cave is you're not really expected to have beautiful high end furniture. You can get away with mismatched used couches. For my husband's man cave, I was able to score a leather couch and loveseat at a garage sale! Or, you could build a diy bench for your guests to sit on (Pro-tip: use a bench with extra storage). Or, use bar stools to make it feel like a pub.
3. DIY Wall Art
Get creative with your wall art! Create an eye-catching display using items like maps, vintage concert posters, jerseys, guitars and movie posters. This is really where you get to showcase your hobbies and interests. Pick any man cave theme you want.
4. Get A Pool Table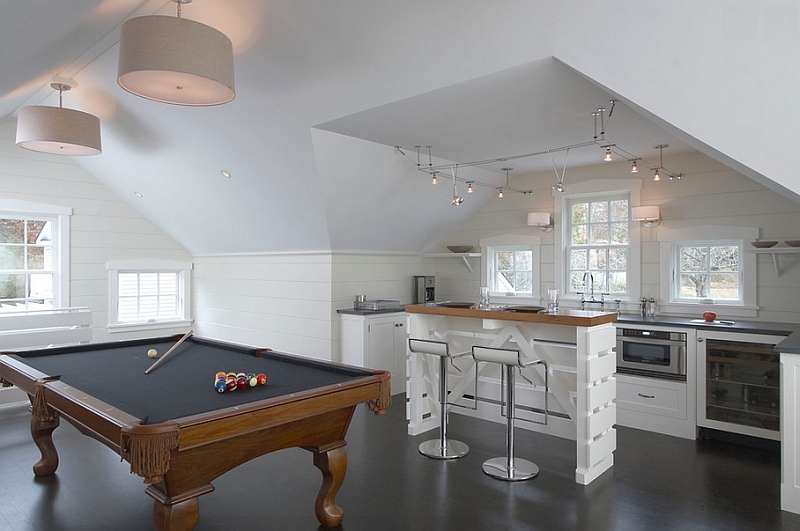 A billiards table is the perfect way to bring some entertainment into your man cave, and you can find used models for a great price. Check out your local Facebook Marketplace for good deals or possibly free ones that people don't want the hassle of moving. You can also look for foosball tables (I got one for $20!) or air hockey tables.
6. Add a Mini Fridge
Having snacks and drinks on hand is essential for any man cave. If you're lucky enough to have a second kitchen that's great. If not, grab a mini fridge so that you can keep refreshments nearby. I found one at a church rummage sale super cheap! Or, use a big cooler if you're in a pinch.
7. Hang LED Lights
Brighten up the space and add a touch of personality with LED light strips. You can find LED-lit strands in any color, so you're sure to find something that fits your style. Or, you could always get one of those Leg lamps from The Christmas Story. That would be a fun conversation piece!
8. Install a Dartboard
A great way to spend time with friends is by playing a game of darts. Hang up a dart board in your man cave and you'll be ready to play!
9. Use Your Gaming Systems
Gather your friends and challenge each other with a few classic gaming systems. From classic Nintendo consoles to the newest Xbox, you'll always have something fun to play.  And, if a game room themed man cave is your jam, you already most likely own a game console already! 
10. Hang a TV or Projector
A television is essential if you want to watch sports games or movies in your man cave. Get a flat screen and hang it on the wall, or invest in a TV stand if you don't want to drill any holes. I've seen a lot of man caves with projectors hung from the ceiling as well and they just use the blank wall for the screen. If you don't have the budget for a new TV, try shopping for refurbished models.
11. Make a DIY Table
Create a custom coffee table to fit your man cave space. Use reclaimed wood for an industrial look, or combine some secondhand furniture pieces for something one-of-a-kind.
12. Set Up a Poker Table
What better way to spend the evening than with a game of poker? Invest in a foldable poker table so that you can easily store it when not in use. Or, Amazon has an inexpensive poker table mat that folds up and sits on top of your table.
13. Home Golf Simulator or DIY Mini Golf
Spice up your man cave with an indoor driving range or mini golf! All you need for mini golf is a few strips of turf, some PVC pipes, and some potted plants to create the perfect obstacle course. Or, you can get an at-home golf simulator. You would literally have THE COOLEST man cave around!
15. Get A Record Player
Bring the old-school vibe to your man cave with a with a record player (or a jukebox!). Not only will you get to listen to all your favorite songs, but it doubles as man cave décor. Vinyl records are back!
16. Hang Neon Signs
Light up your space with some neon signs! Whether you choose a classic beer logo, song lyrics or something more personalized, you'll be sure to make a statement. And, neon signs on Amazon are really cheap!
How much does the average man cave cost?
The average cost for a man cave can vary greatly, depending on the size and features you want to include. A basic man cave setup might include furniture, lighting, entertainment systems, and decor. This would likely cost somewhere in the range of $3,000-$5,000. If your man cave includes more elaborate features such as a bar, pool table, or gaming system, the cost could be much higher. At a minimum, you should expect to spend several thousand dollars on your man cave setup. However, with some careful planning and shopping around for the best deals, you can create an amazing man cave without breaking the bank.
If you're looking to employ a professional contractor to help with your man cave project, you should expect to pay anywhere from $5,000-$15,000 depending on the complexity of the project. This cost would include labor and materials, as well as design fees and any permits required. In addition, some contractors may charge extra for supplies such as paint, bathrooms, or lighting fixtures that you choose to install. It's important to do your research, get quotes from multiple contractors, and compare prices before making your decision.
There are also many DIY options available for creating a man cave. This can be an economical way to create the space of your dreams. A few basic tools and materials, such as paint, furniture, and lighting fixtures, can go a long way in transforming a room into a comfortable place to hang out with friends. With some creativity and using items already in your house or that you find at yard sales, you can make a man cave without spending too much money. For more advanced projects though, such as creating custom cabinetry or installing flooring, it's best to get professional help.
Want More Budget Friendly Ideas?