I'm a huge fan of dark blue walls in the bedroom. My own bedroom walls are navy blue. Floor to ceiling. Deep dark blue walls for the bedroom.
It's a pretty dramatic look and if dramatic is what you're going for, then it's a great choice.
I've chosen a truly dramatic bedroom with blue walls as an example and I'm going to take it apart, piece by piece, so that you can achieve this look if you love it.
And I think you're going to love it.
This post contains affiliate links. If you click one and make a purchase, I may receive a commission.
The Blue Walls For the Bedroom Inspiration Room
That bedroom is my favorite from this inspiration post for blue bedroom ideas. It's stunning and it kind of feels like it might be unnattainable because of just how stunning it is.
But, I don't really believe in unattainable, so we're going to figure out how to get that look with just a few clicks.
Sound like a plan? Let's do it.
The Blue Wall Color
It's not as easy as you would think it should be to match a color from an image you see online to an actual paint color.
You can't just print out a picture and bring it to the paint shop. You may not get exactly what you are expecting.
You can figure out the HEX value for the color, though and that can help you get a color match. That's what I did with the image above.
Hidden Sapphire is a Benjamin Moore Color and to me it closely matches the deep blue with just a touch of green in the inspiration room.
If you don't want that touch of green Marine Blue is also a great option for this bedroom.
Hale Navy is the color I have in my bedroom and I absolutely love it and I think it would do nicely in this bedroom.
The Accents
We've got the walls covered. Let's look at some options for the accents in the room.
Large Scale Floral Painting
This beautiful, large scale floral painting from Etsy has the right mood and color tones that will achieve a similar to the painting in the inspiration room.
This is a big painting. Make sure you have the wall space for it before you make the purchase. This will create a ton of drama for you.
Peony Photograph
This stunning canvas print of a photograph of a Peony is another great option for this room. It's got more pink than the inspiration photo, but the close cropped photo keeps this from looking too sweet.
This one is also available in a variety of sizes, so you can choose what will work best for your room and wall space.
Wood & Marble Side Table
I like the wood tone and the scale of this little side table from Amazon. It's a great size and shape for a nightstand.
The inspiration room doesn't have this marble look top, but I like the lightness it brings.
Wood & Metal Table
I'll be on the hunt for a wood bedside table with those twisted legs and leather accents, but until I find that, this handsome wood and metal table is a good substitute.
It's got the same slightly masculine feel that the table in the inspiration room has and that's an important element in this otherwise very feminine room.
White Pitcher for the Flowers
Finding the right vessel for flowers is not always very easy. I like this pitcher from Etsy because it has a wide mouth, but not too wide making it difficult to keep the flowers corralled.
This has just enough detail to be a little special, but it's not calling any attention to itself either. The flowers that are going to go in it have that job.
Faux Peony Bouquet
Were you worried we were getting real flowers for the side table? I wouldn't do that to you. Who wants to be replacing flowers every week?
This faux bouquet of peonies is actually a wedding bouquet. I love the pale colors and the sage-y greens. It's not cheap, but it will last way longer than real flowers.
Faux Peony Stems
You can also get some faux peony stems from Amazon.
Just be prepared to do some amateur floral arranging to get them to look just the way you like and you might need to supplement with some additional greens.
Woven Leather Strap Chair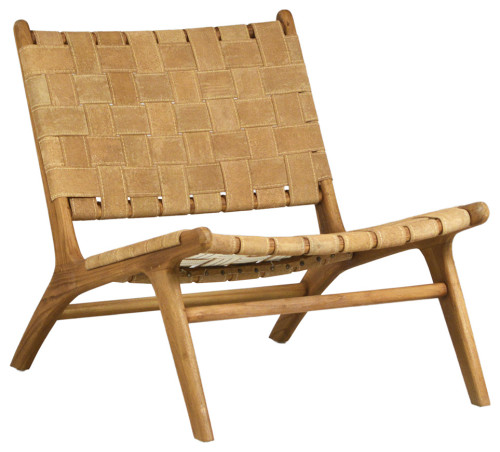 That chair kind of makes the room, doesn't. I love the scale. I love the woven texture. I love that I want to sit in it because it actually looks comfortable.
That's a chair that is doing a lot of work.
The Vintage Leather Strap Chair
If you want a vintage version of that chair, this Michael Van Beuren Lounge Chair from Etsy is it.
And I mean "it". It's the only one.
The Gray Headboard
The actual headboard in the inspiration room isn't for sale anymore. Too bad, but it was als0 $1250, so not exactly budget friendly.
You can get a very similar look, however, with the Bjorknsas bedframe from Ikea. You've got a bit of upholstered headboard + wood + leather. All the style points are there. And you'll spend way less than $1250.
Contemporary Gray Headboard
You could also get a similar feel as the inspiration bedroom with just a clean lined, contemporary upholstered headboard.
This one is great substitute. It's the right color family and it's just a little different with that channel stitching instead of the traditional tufting that you see everywhere.
I mean everywhere. Let's get past tufted, shall we?
Dusty Rose Linen Duvet Set
How do you get that perfectly rumpled look? Like, when your duvet is wrinkled, but it looks intentional?
You go with a linen duvet set. This dusty rose colored linen duvet set from Etsy is a great match to the one in the inspiration room.
I love that dusty rose color. It's pink, but it's not little girl pink. It's perfect for a grown up bedroom and it's gorgeous about deep blue walls.
Watercolor Pillow Cover
That watercolor looking throw pillow in the inspiration is a beautiful muted mix of soft colors.
This one from RS Studio on Etsy has the same feel and mostly the right tones.
Vibrant Hand Painted Pillow Cover
If you want something a little more vibrant, this handpainted pillow cover from Etsy is beautiful.
It will pop more than the muted one above so make sure it's not competing with anything else you might choose for decor pieces near the bed.
The Tweed & Leather Pillow
It's nearly out of frame but there's also a handsome tweed and I believe leather accent pillow on that bed.
This one from Etsy isn't a perfect match, I'd like it a bit lighter gray, but it does have the leather accent which is a great touch and calls back to the headboard with the leather straps.
These tweed pillows from Amazon are a better match to the one in the inspiration room and they still have some detail with those buttons.
I love the addition of tweed to this room overall because it is a masculine fabric in the midst of all that pinkish/rose.
The Deep Blue-Green Throw Blanket
That jewel toned blue green throw blanket at the end of the bed pulls everything together and gives all the soft pink on the bed a bit of edge.
This green throw from Etsy looks to have enough blue in it to do the trick and it's a beautiful hand made raw cotton that will look amazing in this room.
This pretty patterned teal blanket with the fringe could work as well in this room.
I love the little bit of texture that pattern offers. It looks like a cozy napping blanket to me.
The Pink Rug
I almost didn't include that pink rug in the post. Why? Because it can be really hard to judge a rug color on line and it's an expensive item that you don't really want to mess up. It's something I would normally buy in person or from a retailer I knew had a really easy returns policy.
But, in case you're wondering, here's one that I would consider for this room:
It's got the right colors, I'm pretty sure and it has a great texture. I love the faded pink in this one. There's tons to look at on Etsy and if you're brave enough to buy a big old rug on-line, take a look and see what you love.
That's the Blue Walls in The Bedroom Look
What do you think? I love and adore this bedroom and I'm seriously considering making it mine since I already have the navy blue walls.
Are you brave enough to make the plunge to deep dark blue walls in the bedroom?